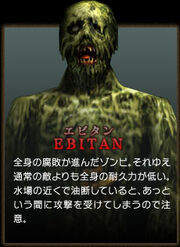 Ebitan is a recurring zombie in The House of the Dead series. Originally created by Dr. Roy Curien, Ebitan is a perpetually rotting zombie with a horrid mossy and green appearance.
The House of the Dead
Edit
Ebitan first appears in the Curien Mansion in the first House of the Dead game, originally with the name "Evitan". As stated in the Sega Saturn manual, Evitan was seemingly created by accident one day when Curien was "puttering in the lab, seeing what he could come up with". Evitan prefers to reside in wet places, especially in bodies of water like pools, lakes, and gutters. In this game Evitan comes in three variants: a plain whole-bodied version that either jumps out of murky water or charges at you, another plain whole-bodied variant that is the same as the first except covered in blood, and half-bodied with two yellow jagged swords that pop up and fall upon you from the ceiling or openings almost everywhere.
The House of the Dead 2
Edit
Ebitan appears again, having been recreated in numbers by Caleb Goldman to raid the city of Venice, this time with his official name being Ebitan. He still prefers to reside in wet areas, leaping out of the water to attack his prey. He comes in three variants in different colors: a green regular one, a black one with a better resilience, and a brown one that jumps at you out of the water without warning.
The House of the Dead 3
Edit
Ebitan appears yet again in the zombie-infested DBR research institute, this time with a "little brother" "Ko Ebitan" - a slighter shorter version of him. He resides in water tanks in the bio labs and in the water-filled pools in the final stage. Humorously enough, if they're looked at in a certain way, these Ebitans stunningly look like an army of green, lumbering, moss-covered Chewbaccas.
The House of the Dead 4
Edit
Ebitan return is this game,still resides in wet areas .He is mostly found in the second chapter in the sewers.They are either brown (HP: 60), dark green (HP: 120), or pale green (HP: 80).they still look like green, lumbering, moss-covered Chewbaccas.
Sega Golden Gun 
Edit
Somehow,Ebitan appears in this game,as always,he resides in wet areas , they are found in the 2nd,3rd or 4th stage(depending on the player's decision). He is black in this game.