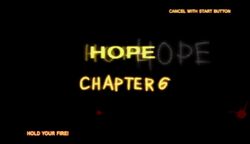 Hope is the sixth and final chapter of The House of the Dead 4.
In Goldman's flashback of three years ago, Goldman states that earth has evolved in a way so that it naturally regulates the population of any given species, including humans. Goldman states that "Pandora's Box is opening" as he is confronted by James and Gary, both of whom are standing right in front of his desk.
Back in the present, James and Kate take an elevator to the 49th floor of Goldman Building to find that the corridor is decorated with Japanese ornaments. With five minutes left on the clock, James gets wounded again as Kate carries him up to continue on and eventually reach Goldman's office to deactivate the nuclear missiles with 30 seconds left on the clock using a computer concealed within the desk.
The computer's monitor then shifts to a video package of Goldman congratulating the AMS and that it was not his intention to destroy the world with nuclear missiles merely wishing to revert humanity to its natural state.
Ad blocker interference detected!
Wikia is a free-to-use site that makes money from advertising. We have a modified experience for viewers using ad blockers

Wikia is not accessible if you've made further modifications. Remove the custom ad blocker rule(s) and the page will load as expected.