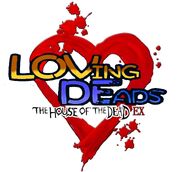 The House of the Dead: EX
is a more casual spin-off to the main games and adds a more humorous twist to the series. Players play either
Zobio or Zobiko
, a pair of young zombies in love, who seek to escape from captivity. As opposed to the general gameplay of the series, EX's levels are made up of a series of minigames, similar to Namco's Point Blank and Ghoul Panic. Sections are split up into various paths, some of which use the lightgun, such as shooting apples, and others which use a foot pedal on the machine, such as stomping on spiders. The goal of each level is to fulfill a quota within the time limit, indicated by long hands reaching towards each other. It runs on the Lindbergh arcade system and is also the first game in the series to use pedal, like the Time Crisis series. The game was slated for release in December 2008, but was delayed, and released later in 2009. The game hasn't had a release outside of Japan as of today, however, the English Language version on the BIOS of the rom can be selected as well as the original Japanese Language, making it more suitable for a non Japanese audience.
Ad blocker interference detected!
Wikia is a free-to-use site that makes money from advertising. We have a modified experience for viewers using ad blockers

Wikia is not accessible if you've made further modifications. Remove the custom ad blocker rule(s) and the page will load as expected.